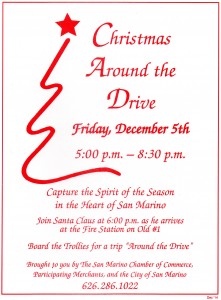 This Friday December 5th the City of San Marino will be having their yearly #Christmas Around the Drive. From 5:00-8:30pm it will be between Bedford and Del Mar. A fun Holiday event for the family.
Santa Will arrive on the Old #1 fire engine at 6pm.There will be Tons of treats, shopping, Puppeteers, Petting Zoo,Magicians and Trolleys just to name a few.
Everything will be set up all along Huntington drive. All activities are FREE!!!!!
and being in the Area you gotta check out the Beautiful Christmas Trees on St Albans Drive at Huntington Drive. Huge!!! Pine trees all lit up its so beautiful!!!
Heres a little Glimpse 🙂