by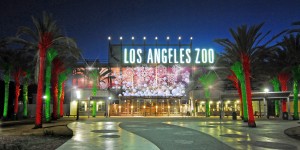 Another Great Reason to visit the Los Angeles Zoo 🙂 This holiday season for the very first time, the Los Angeles Zoo changes stripes from a daytime adventure to a dazzling winter wonderland known as "L.A. ZOO LIGHTS", which electrifies guests as it transforms the Zoo's enchanting environment into a series of awe-inspiring animal escapades rendered in led lights, lasers, 3D projections, spectacular sets and interactive displays. Open nightly from Friday, November 28, 2014, to Sunday, January 4, 2015, 6 to 10 pm (except Christmas Eve and Christmas Day), this magical new experience is destined to become a wondrous, "don't-miss" holiday tradition. "L.A. ZOO LIGHTS," bringing lights back to Griffith Park for the first time since 2009, is produced and presented by the Greater Los Angeles Zoo Association and made possible with support from Councilmember Tom LaBonge, City of Los Angeles, 4th District.
Griffith Park is accessible to so many residents of Los Angeles and occupies a special place in the hearts of many," says LaBonge, one of the driving forces behind "L.A. ZOO LIGHTS" who wanted to provide Angelenos with a holiday activity to replace the beloved DWP Holiday Light Festival. ""L.A. Zoo Lights" is a new and different experience that people are going to love and cherish as they get out of their cars and walk through an amazing holiday wonderment with remarkable LED lights."
An ideal family outing, meet-up with friends or date night, "L.A. ZOO LIGHTS"' self-guided 60- to 90-minute tour through select areas of the Zoo (while the animals themselves are asleep) introduces guests to a clever troop of animated LED "monkeys" commandeering an electrical power source hidden in an unusual holiday tree. They swing through the entry plaza to guide an illuminated power line toward a giant electrical "outlet," attempting to plug it in. Will they succeed? YES! The Zoo lights up, and guests follow the "monkeys" as they encounter an illuminated "Reggie the alligator," an origami "rhino," singing "elephants," and a party of musical pink "flamingos" fronted by their DJ leader, to name a few. Along the way, "L.A. ZOO LIGHTS" offers the only opportunity in Los Angeles to see real reindeer, lit by elegant "chandeliers," ("L.A. ZOO LIGHTS"' sole live animals), plus weekend-only visits with Santa Claus, perched atop a throne seemingly carved from ice, and an unexpected Hollywood ending featuring a red carpet bustling with paparazzi "animals." Other special effects range from 3-D holiday-themed animations projected onto a group of palm trees and a "bird" who flies to a nest filled with golden disco balls, to freeway-driving "animals" on their way to the "L.A. ZOO LIGHTS" opening against a backdrop of Los Angeles landmarks and a group of giant "bullfrogs" made from 3,750 water bottles lit from within, plus much more. Among the evening's sights are giant floating snowflakes, glittering light tunnels, animal cutouts and icicle lights. Although the Department of Water and Power's wildly popular Holiday Light Festival is a bygone Griffith Park holiday tradition, and while "L.A. ZOO LIGHTS" is a completely different, well, animal, it pays homage to the Festival with a nostalgic nod to the past by featuring some classic pieces, including the Hollywood sign, the downtown LA skyline and City Hall. Steaming hot chocolate and other holiday treats and goodies for sale are also part of the fun.
L.A. ZOO LIGHTS"' techno wizardry is designed by art director Gregg Lacy and Bionic League, a live event lighting design company known for magnificent light shows for festivals, stadiums, arenas, clubs, and artists like Daft Punk, Kanye West and many others.
Daytime visitors to the Zoo can see the reindeer during regular hours, which are 10 am to 5 pm, along with a flurry of seasonal festivities and yuletide flourishes, plus weekend visits by Santa Claus.
Admission to "L.A. ZOO LIGHTS" is– $13 for adults/seniors and $11 for children ages 2 to 12; tickets for GLAZA members are $12 for adults/seniors and $10 for children ages 2 to 12; children under age two 2 are free. Purchase tickets online to attend during the first two weeks (Nov 28 – Dec 11) for the online-only Early Bird Rate of $8 each.
The Los Angeles Zoo and Botanical Gardens is located in Griffith Park—5333 Zoo Drive, Los Angeles, CA 90027. Free parking is available. For additional information, contact (323) 644-6042 or visit www.lazoo.org







by