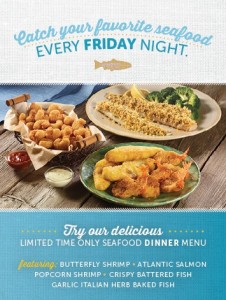 Its SeaFood Fridays!!!! Over @HomeTownBuffet!!!!!! 
SeaFood Fridays Started on Feb 20th and will run until April 3rd every Friday after 4pm. SeaFood fridays is a perfect option for People that celebrate Lent because there is just so much to pick from and at a very affordable price. Its also great because if anyone in your group doesn't like SeaFood or doesn't participate in Lent there is many choices for them also. When we were there they had plenty of meat options available as well as chicken and pastas.
Some of the Shrimp options available that night were ButterFly Shrimp and Popcorn Shrimp 🙂
Both were very Tasty!! but our Family Voted and all Loved the Butterfly Shrimp Including our 3 year old. 🙂
The Fish Options we had were Atlantic Salmon, Baked Fish,Italian Herb and Southern Fried.
All were very good But my Favorite was the baked with a little squeeze of Lemon 🙂 Ok now Im hungry writing up this post is making me remember what I ate!!  Wether its SeaFood or any of the Other Tasty options you can mix and match your sides and salads. We are very Happy Hometown Buffet is doing this with a family of 5 we always walk out happy because everyone picked exactly what they wanted. Our kids love picking out their food and do so well eating all of it. The Dessert options are always great and because you have the choice you can even change up your drink and get a nice cup of coffee to end your meal:) for more information about SeaFoodFridays or to find a location go to http://www.HometownBuffet.com  or http://www.OldCountryBuffet.com 
We will be Giving away 2 Pairs of Passes for 2 Lucky winners!!!!!!!! 
Just comment below and let us know what you will be trying if you win 🙂