by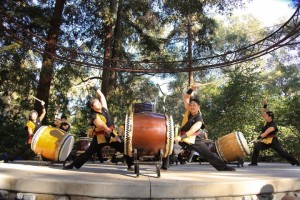 The Japanese Garden Festival will feature Taiko Drummers,Ikebana and more. Descanso Gardens celebrates the art and culture of Japan at the Annual Japanese Garden Festival on Saturday Nov 8th and Sunday Nov 9th. The weekend will include taiko and drum performances,ikebana display, a garden tour and more. All these events are free with admission to the Gardens 🙂
Ikebana Display, both days 9am-5pm the art of flower arranging, is one of the most actively practiced of Japan's traditional arts.The Sogetsu school of Ikebana promotes a contemporary and international understanding of this art form.
Japanese Garden Tour, Sat only @10am Dr Kendall Brown, Professor os Asian art and history and author of "Quiet Beauty :The Japanese gardens of North America", leads an in depth tour of the Descanso Japenese Garden.
Camellia Lounge, both days 11am-3pm: Patina will sell distinctive Japanese cuisine,sake and beverages.
Taiko drummers, Both days 11:30am and 1:30pm: Always a crowd pleaser,the Taiko drummers from Kishin daiko perform their feats of percussive magic 🙂
Admission to descanso Gardens is $9 general,$6 seniors/students with ID,$4 children 5-12, and children 4 and younger FREE 🙂 
Descanso Gardens is located at 1418 Descanso Drive, La Canada Flintridge, CA 91011 info:818-949-4200 or www.descansogardens.org







by