by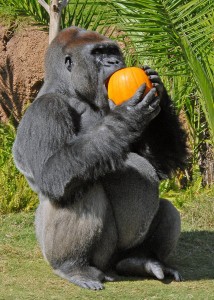 Heres another fun Halloween Outing for your families Boo at the LA Zoo over at the Los Angeles Zoo and Botanical Gardens.The event will be running the next 2 weeks Saturday Oct 18, Sun Oct19, Sat Oct 25 and Sun Oct 26 from 10 am -4pm. 
Some of the Activities will be: Trick or Treating,Jack o Lantern carving demo's, strolling Pirates,Princess and vampires characters.Up close encounters with Crawly insects and reptiles, there will also be awesome feeding Opportunitys for Gorillas,elephants,orangutans and giant Otters as they enjoy Pumpkins filled with treats to eat and play with. Last year we saw the Tigers get Pumpkins filled with treats and it was amazing to watch! seeing them crack them open was quite a sight 🙂
Boo at the LA Zoo activites are Free with paid Zoo Admission — $19.00 is general Addmission for ages 13-61 $16.00for seniors ages 62+ and $14.00 for children 2-12 no ticket is required for children under 2.
This weekend will be a great weekend to go visit Cooler weather at the Zoo is always a PLUS!! and  doing something Halloweenie and visiting the Zoo at the same time is another Big Plus!!! lets keep supporting Our LA ZOO 🙂 and if you go on a Saturday after all the walking around  remember kids eat Free at Participating Dennys from 4-10pm 🙂







by