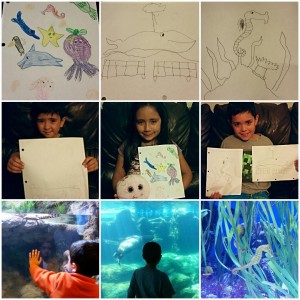 Now through May 31,2017 you can explore the realm of real life Horses and Dragons that dwell under the sea over at The Aquarium of the Pacific in Long Beach. 🙂
I've always been facinated with Sea Horses. When I was a little girl I remember my cousin having a huge salt water tank and she had her very own Sea Horse!! I remember thinking she was the luckiest person out there! Now of course I understand why we can't own them, but you can get up close and see them over at The Aquarium of the Pacific. Over at the Horses and Dragons exhibition. Our kids and I were lucky to see this exhibit and we will definitely be back. 🙂 I never knew there was so many different types.
Here are some examples of what we saw.
Leafy Seadragon found in Southern Australia. These guys have amazing camouflage. They look and sway like plants and can change colors to match their seaweed and sea grass habitats.
Weedy Seadragon Only found in Australian Coastal Waters. They are near threatened and just like their Seahorse relatives male Seadragons carry thier eggs.
Longsnout Seahorse Found in Western Atlantic Ocean along the U.S, East Coast and around Burmuda, Bahamas to South America. This guy looked a little more familiar to us.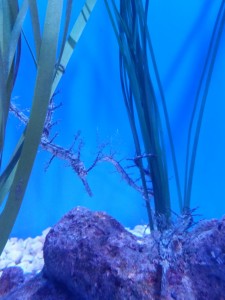 Ribboned Seadragon Not a true Seadragon but is a member of the pipehorse group of fishes. Such am interesting one to see! So hard to believe they are real. It's also cool to know that they are similar to the Rainbow serpent found in ancient aboriginal drawings that date back to 5,000 years ago can you see the resemblance below 🙂
These were just a few of what we saw, you will also see Pipefish, Razorfish along with all the other amazing and unusual animals throughout the Aquarium.
Make sure to check out the Vanishing Animals Gallery below are some pics. You will also learn through live animal exhibits, multimedia and interactive displays how we have the opportunity to help with preventing extinctions as well as learning more about extinction. I really think the kids understand by seeing examples.
We also checked out the new puppet show Pacific Pals featuring Piper the seahorse 🙂 over at the Marine Life Theater. Such a cute
and informative show.
We had a great and memorable day!!! Once we got home the kids drew pictures of what they saw 🙂 Our son was so inspired all he's been talking about is becoming a Marine Biologist and keeps asking to go back. Theres so much to see!! we even took a little break and went on a Harbor Breeze Tour aboard La Espada 🙂 follow them on Instagram at HarborBreezeCruises http://www.2seewhales.com for more info.
I wasn't able to get very good pics of all the dolphins because they were swimming and jumping very fast! But seeing them was so exciting! They swam close to the boat and we could see them below us. The kids were so excited they couldn't believe these were real dolphins in the ocean and not at a show 🙂 We also saw a Blue Whale!!!! We definitely made memories and the kids want to learn so much more.
The Aquarium is a great place to visit in these summer months. The Aquarium is open daily from 9am-6pm and until 8pm on summer Sundays. 
Aquarium Address: Aquarium of the Pacific 100 Aquarium Way, Long Beach CA 90802
562-590-3100 http://www.aquariumofpacific.org
Cost: The exhibits are included with general admission: $29.95 adult (12+), $26.95 senior (62+),  $17.95 child (3-11), and free for children under 3 years old and Aquarium members.
FYI– Wienerschnitzel has Discount coupons 😉 make sure to pick them up Original Coupon must be present.