Exciting things are Happening at HomeTown Buffet 🙂 Hometown is one of our family favorites. Our kids always eat very good when we go there.Part of the excitement is that we let them pick whatever they want ( as long as there is a vegetable on their plate) 😉 They eat everything because they look forward to picking out dessert!!!!
And speaking of Dessert Hometown Buffet is now serving Cinnabon!!!! How amazing is that???? Eat as many as you want 🙂 Think about how much one costs at the mall and here @HometownBuffet they come with your meal 🙂 But…….. If you feel like you want to take some home they are avaiable for purchase also.
2 Other new Desserts are : BlueBerry Cheesecake Shooter and Chocolate Brownie Cheesecake Shooter Both are very Tasty and a perfect little portions for someone that just wants a little something. But of cource if you'd like a couple feel free 🙂
And now Lets talk about the 5 New Steak Choices I know I kinda went backwards and started with dessert 🙂
Ok so heres the Country Fried Steak all I can say is wow!!! Nice Crunch and so much flavor in both the Breading and the Gravy definitly a must.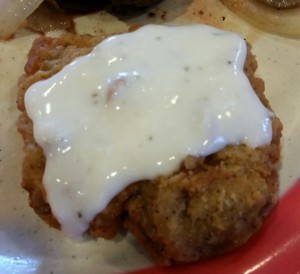 This Next one is the Sirloin Steakhouse Chili 🙂 Again Lots of flavor very meaty and the Cheese makes it extra tasty 🙂 Home town has lots of great Bread Choices Im sure you will see something you can dip in the Chilli.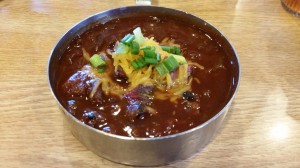 This one is the Sirloin with Potatoes O'Brien If you like Peppers and onion this ones for you 🙂 also a great Choice you can really taste the well seasoned steak here tasty choice 🙂 even though this one has potatoes i think i'll get some mashed potatoes on the side also 🙂
Ok and this Last Steak Choice is the Sirloin with Potatoes Au Gratin I like this one because it has the Creamy Gravy from the potatoes   and The meat sitting right on top so you can either mix or take bites of each so yummy!!!!!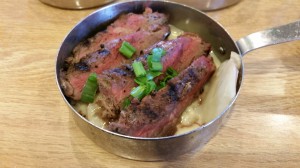 This One here is the 1/3LB Chopped Beef Steak very Tasty and you can add all the onions and mushrooms you like!!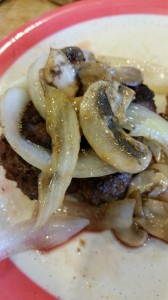 I personally Tried all of these choices and Thumbs up to all. I had them yesterday and all day today I kept thinking about how tasty all of them are. If you haven't Tried Hometown Buffet we recommend it. Like I said before our kids Love it and Its a great place to have a well balanced meal.
As an FYI Hometown has Family night on Thursday Evenings —Kids eat for 1.99 after 4pm  
Hometown Buffet is selling their Big Book of Savings for $10.00 each Seniors can purchace for $5.00each.
The purchase of these booklets are for a Great cause the Restaurant has pledged to donate $10,000 from the sales of the booklets to the Armed Services YMCA. Each book has 25 coupons with more than $75.00in savings.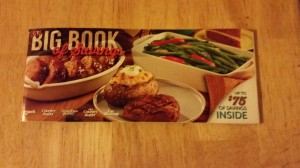 The Big Book of Savings includes Discounts for Breakfast,Lunch and Dinner and features offers on adult and kids meals.They also offer a smaller coupon book for $5.00 with 18 offers and more than $50.00 in savings. Anyone who purchases $100 in gift cards will receive the holiday booklet FREE .
Offers in the Booklets are good until Feb 13,2015.
I will Be Giving away 4 of The Big Book of Savings so just comment below or on the FaceBook post What you want to go eat @HTBRestaurant 🙂 I'll announce the winners Friday morning 🙂
Hope you all give it a try!!!!!!!!!!!