by

This summer right before the school year started. I took our kids on a last summer outing over to Adventure City in Anaheim Ca. But….. since we always seem to have great weather we will definitely be back on a weekend 🙂
We've been to Adventure City before and really loved it! It's a perfect place for a day outing. Adventure City is a small Amusement Park where all the younger kids can all have a great time. Our kids ages 4,7 and 9 and they absolutely love this place.
First off the Parking is FREE!!! and very close to the entrance. As soon as you walk in, you will notice how clean and well taken care of this park is. Everything is nice and bright and there's lots of beautiful flowers and plants all around the park.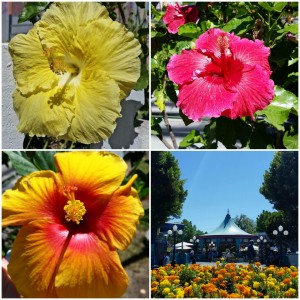 We like to start on one side of the park and go all the way around so we try every ride.
As we make our way, we see the Show times Board and keep those times in mind while going about our day 🙂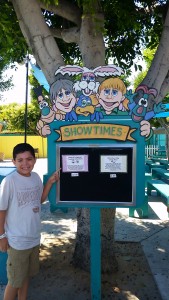 One of the kids favorites is the School Bus, our four year old didn't want to get on so I stayed behind while grandma and the kids rode.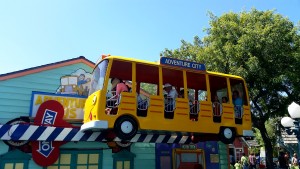 Our Little guy loves this Train!!!
Riding the Train is a great one to try early in your visit because it takes you all around the park and you can get a feeling of everything else you will experience later it's also a great one for the whole family to get on together 🙂
All the rides are included in admission but they do sell a FunCard which gets you points to use on the Rockwall and Arcade 🙂
This was really nice for our girl because two years ago she didn't make it to the top and this time she did!!! She was so happy and proud 🙂
The Airplanes are also a favorite
Next to the Airplanes you will see the Balloon Racers this is my favorite 🙂 I think they are pretty to look at and the air feels great when you fly up!
For something a little faster try the Freeway Coaster
Another thing I love about this place is their food. I think it's fairly priced and good portion size. Since we were running around a nice treat is always good 🙂 we decided on Nachos and Chili Cheese Curly Fries!!!! They don't skimp on the cheese!
And for the Mama's Starbucks!!!!!!
I was so happy to see they brew Starbucks Coffee as well as iced!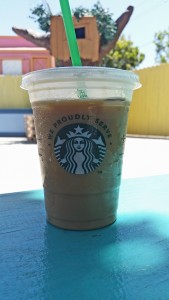 You can also purchase an Adventure City cup and get refills throughout the day for $1.00.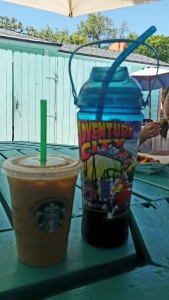 A huge plus for our family was when I asked for a refill on my own water bottle and they showed me where they have an ice bucket along with water they even have cups free of charge!
Our family drinks tons of water and theres no way I can keep buying bottled water this is so nice of them to offer it.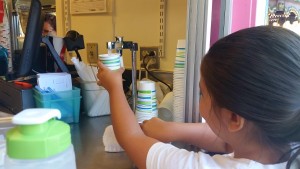 There's lots of places available to sit and eat but we took our food over to the show area since it was almost going start. 
There's plenty of benches and tables all with great views of the show.
The kids thought the show was pretty funny!
Adventure City also has a Petting Zoo, also included with admission I think they sell feed but we didn't do it.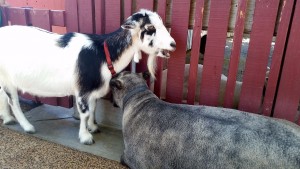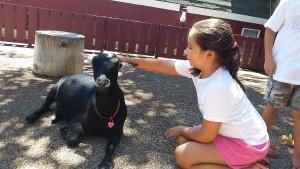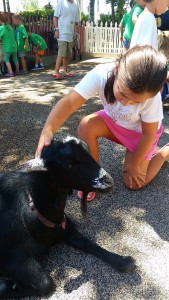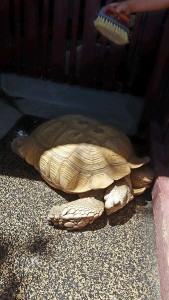 After petting the animals they have a handwashing station right across the way.
Carousel fun is always good 🙂
We doubled up on some of the rides and one of the last rides we rode was the Drop Zone I stayed behind with the little guy and these brave kids got on with their brave grandma!
The last ride for the day was the Roller Coaster our nine year old son went ahead and got on by himself 🙂 Brave kid gets on everything!
Before leaving for the day we did have some fun over at the Arcade all 3 kids shared one $20.00 FunCard and it went pretty far they all played what they wanted, got tickets and even collected prizes.
The Price is right for this Park and you end up with a nice full day of fun with lots of memories made 🙂 Hours vary but they dont open to early or close to late. You can definitly do everything in one visit.
This Park makes me feel happy because it brings back childhood memories. Back when I was a kid my dad would take us to the Beach and on the way home we'd stop by Hobby City which is right next door to Adventure City. There was lots to do back then and the buildings are still there today. I even remember when construction started and when Adventure City opened in 1994 we didn't visit because I was already in high school but I knew once I had kids or nieces and nephews Id be bringing them to visit.
Im Happy to say we have a GiveAway!!!!!!!!! 4 Tickets to Visit Adventure City!!! to Enter please like share and comment on this post 🙂 let us know if you've been and what you liked or if you haven't been what you'd like to try 🙂 There was a couple more rides that i did'nt get pictures of.
Adventure City is located over at 1238 S. Beach Blvd. Anaheim Ca 92804 Phone– 714-236-9300 
Admission is $17.95 (infants 12 months and younger are Free) Seniors are $12.95 (ages 55 years and up) 
visit http://m.adventurecity.com/  for more information. And I also recommend signing up for the E-Club because they send out lots of deals and you might even get a free admission for your Birthday!







by