by

This weekend we wanted to have a weekend full of Disneyland. We planned our stay over at Grand Legacy at the Park, also known as Ramada MainGate at the Park. Staying here was the best thing we could've done 🙂 Right off the bat we received outstanding customer service everyone at the front desk and vallet were very helpful and friendly. We arrived hours before check in we filled out our paperwork got our parking permit which by the way is $5.00 with your stay! and walked right on over to Disneyland!!! the walk over to the park is 7 minutes!!!!! thats it!
Once it was time to Check in we walked on back, easy as that!!!! We really wanted to go back to the park in the evening to watch Fantasmic and Paint the Night so in order for the kids to hang in there until midnight we figured it was time to take a little break.  
Heres a little glimpse of our room, as you see its perfect for a family. The room is nice and roomy, extremely clean, nice size fridge so make sure you fill yours up. I was also happy to see plenty of coffee ( a huge plus) , quality toiletries that smell amazing and even make up remover wipes!! all these things make me very happy 🙂  
A little helpful hint if you have a Birthday boy or girl is to let the front desk know when booking, they will leave a little treat for them 🙂 you can see these kids were thrilled! a little to thrilled that they wanted to stay and play with what they got 🙂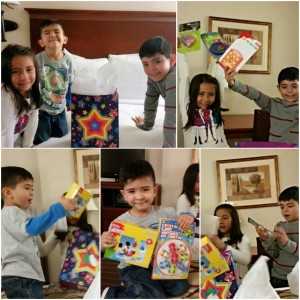 It was a beautiful day and it wasn't to cold yet so we went for a swim! anytime we visit a hotel we really make it a point to swim even if its just for a bit. The kids always seem to remember and more memories are made at the pool 🙂 can you see tower of terror in the distance over in the 1st pic?? 🙂
The Hotel Pool was Heated and is shallow enough even the little ones can sit and play. The kids really enjoyed the Splash Pad and rested their legs in the Hot tub 🙂 
Once we swam and slept we headed out to Denny's just a couple doors down. If you show your room key you receive 10% off 🙂 the other side of the key also saves you 10% off over at McDonalds also just a couple doors down.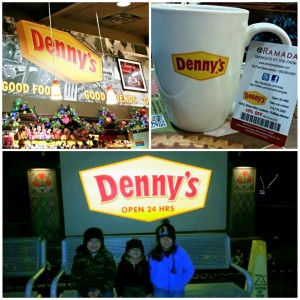 After dinner we headed back to Disneyland!!!! The Grand Legacy is so close we didn't even take a stroller.
We ALL hung in there until 12am closing 🙂 and it was all because we were able to take a break half way through the day. We also had peace of mind knowing we just had to walk across the street! no long drive home for us 🙂 there we are walking out.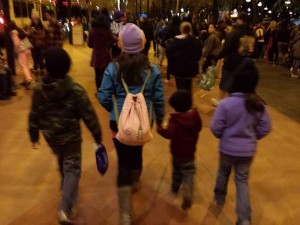 Back to the room here they are all cozy in the beds 🙂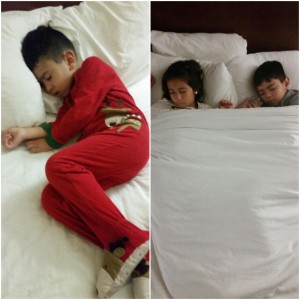 Complimentary Continental Breakfast is served from 6:30am-9:30am this is another great perk when staying at The Grand Legacy so helpful saves time and money. They offered donuts, cereals, fruits, toast, bagels, biscuits and gravy along with juices and coffee. Everything was well stocked and nicely organized. 
Since Check Out isn't until 12:00!!! we had some time to run on over to California Adventure. We got there very fast and were able to get in a 15 min line for Radiator Springs Racers!!!!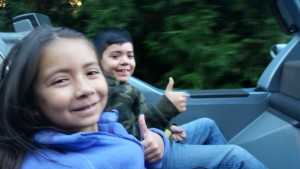 Check out at 12 is a huge plus!!!!!!!!! 
We really enjoyed our stay at The Grand Legacy at the Park. Every single employee was happy to help and very friendly 🙂 The rooms are all remodeled and have a lot of space for everything that comes with a family. I love that the room felt very clean especially with kids. We had a ton of fun in the pool and lots of memories were made. I think we found our family tradition hotel when visiting Disneyland :). Our kids also have a special attachment and will remember this hotel because about two weeks ago we were invited to the unveiling of the Hotels new Name and were able to walk around and check out the new amazing changes coming up. Some of the changes include a new Breakfast Room that will still be complimentary. The new building will hold beautiful luxurious rooms and suites.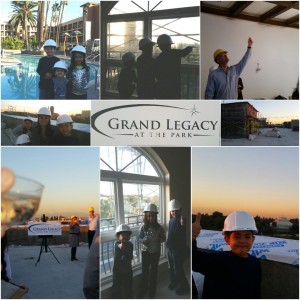 6 Retail shops will be open at the ground level a mimi mart, ticket store, pizza place, and a scooter rental shop for sure.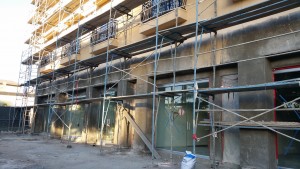 Something we are all excited about is the RoofTop Bar and Lounge which will be open sometime in February. The Rooftop will be family friendly during the day. We were up there!! you can clearly see Hollywood Tower of Terror over at California Adventure and Space Mountain and the Matterhorn over at Disneyland as well!! 
This is gonna be amazing at night! to be able to watch the Disneyland Fireworks have a drink and walk right over to your room 🙂 we really cant wait!!
The Bar will be a Full Bar serving  Cocktails, Beer,Wine, Drinks along with light food all available for purchase. There will also be a stage for entertainment. The Rooftop is 5,000 square feet and will also be available for hosting Meetings, Special Events, Corporate groups and Weddings. An Indoor meeting space which holds 60 people will also be available.
We can't wait to visit again and with a family of 5 we found it perfect!!!! 
Visit http://www.grandlegacyhotel.com  For more information and to book your stay. 
Grand Legacy At The Park (also known as Ramada MainGate At The Park) 
1650 South Harbor Blvd.
Anaheim, Ca 92802 
714-772-0440 







by