by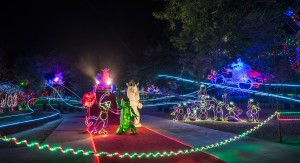 L.A. Zoo Lights A dazzling Wonderland Opens this coming Friday Nov 27th. This year its back and better than ever!!! We really can't wait to check this out! Thousands of LED lights, Flurries of illuminated snowflakes, 3D animated projections for example animated elephants wearing holiday sweaters 🙂 water and light shows set to music, glittering light tunnels and fanciful menageries of animal characters including michievious monkeys scampering the grounds. All this will set the Zoo's enchanting Environment aglow with wonder and delight to top 2015 "Holiday Tradition" destination list. Im hoping to start this as a family tradition myself 🙂 what a perfect way to spend the day after Thanksgiving and bring on Christmas!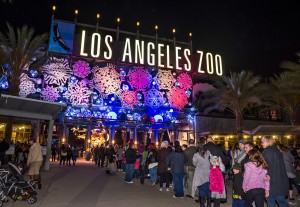 I hear the events biggest expansion takes place over at the LAIR (Living Amphibians,Invertebrate, and Reptiles) There will be a giant 130 foot illuminated snake gazing down from the roof top! flickering its tongue as you enter the building. Once inside you will be bathed in ultraviolet light with glowing webs, orbs and insects of all kinds on the rock walls. In the LAIR Courtyard there will be snowboarding iguanas on a sparkly frosty hillside. Once we go I will post pics!! 
Santa's Village is in an all new glittering alpine setting perfect for pictures (available for an additional fee).
L.A.Zoo Lights also presents two VIP Experiences—- One is Happy Hour!!!! for ages 21 and over on Dec 10th. This VIP experience starts at 6pm and features "skip the line" express entry to L.A. Zoo Lights with a private lounge from 6:30-8:30pm with appetizers, beer, wine and hot and cold specialty cocktails. Tickets for  Happy Hour are $75.00 per person. 
The second VIP Experience is Family New Years Eve for all ages. Family New Years Eve will be on Thurs Dec 31st. at 6pm. this also includes skip the line express entry to L.A.Zoo Lights. Dinner Buffet, soft drinks, complimentary champagne for the adults 🙂 sparkling cider for kids, dessert,a ride on the Zoo's special conservation carousel, crafts, DJ dance party, cash bar and live broadcast of New York Times Square Ball Drop at 9pm. After which guests are welcomed to experience L.A. Zoo Lights until closing. Tickets for this VIP Experience are $65 (adults) and $35 (children) for GLAZA members $60 (Adults) and $35 (children). There is limited availability for both VIP Experiences so make sure to get them early!!
What a great way to see the LA Zoo I know our kids love the animals and it will be really interesting to see it this way! We are always looking for more ways to celebrate Christmas and we are Excited!!! 🙂 Its a great and  affordable night out.
L.A. Zoo Lights tickets are on sale now!!! for Opening on Friday Nov 27- Sun Jan 3,2016 (except Dec 24 & 25) 
L.A. Zoo Lights is open 6pm-10pm Monday-Thursday   6pm-11pm Friday-Sunday and Dec 21,22,23 
Admission to L.A.Zoo Lights is $13.00 adults/seniors $11.00 children 2-12 on Mon-Thurs (except Dec 21,22,23 when tickets are the same as weekends)
Friday-Sunday Admission is $16.00 adults/seniors $14.00 for children 2-12 Tickets for GLAZA members are $11.00 children under 2 are FREE!! 
Online early bird tickets are available at $10.00 each I just got more tickets they are up now!! purchase these tickets during the 1st week (Nov 27th-Dec 3rd)
visit http://www.LAZooLights.org 
Tickets are also available for $9.00 after 9 pm on select nights.  Visit http://www.LAZooLights.org for details and to purchase tickets.
Have fun Everyone!!!!!!!!!!! and let us know if you go!!!!! 🙂 
Los Angeles Zoo—  323-644-4200
5333 Zoo Drive Los Angeles Ca 90027 FREE parking 🙂 







by