by

Irvine Park RailRoad Easter Eggstravaganza 2015 
Can I just say how excited I am 🙂 We Love Spring Time Fun and celebrating Easter over at Irvine Park railRoad is going to be exciting for us. The Event starts on Saturday March 14th and goes until Saturday April 4th. 
Adults and kids can hop on over to the train which runs through Irvine Regional Park 🙂 cost of the train is $5.00. Afterwards kids ages 2-12 can participate in an Easter Egg Hunt. ( not sure about you but our kids go nuts over egg hunts). Just don't forget your Easter Egg baskets or pails!!!! theres only so much you can hold 😉 but if you do forget they will have them for purchase. Egg Hunts start at 10am daily and tickets can be purchased and exchanged for wristbands to participate at a certain time.
Tickets must be purchased on the day of the event in order to receive the Egg hunt wristband. $10.00 will get your child a picture with the Easter Bunny along with a complimentary picture. Additional prints are available for an extra $6.00. Other fun things to do are Hay Rides,Cookie Decorating,Moon Bounce, carnival Fun,Picture stands,Face Painting and more 🙂 Any questions go to http://www.IrvineParkrailRoad.com  
We haven't been but will be going this year. Like Irvine Park RailRoad on Facebook to get all the updates. Throughout the year they have different events. They have a very popular Pumpkin Patch and Christmas Tree Ranch.
Now are you ready??? We have a Giveaway!!!!!!! 6 Tickets Total! they can be used to ride the train or participate in Easter Eggstravaganza Activities. Plus 1 Wheel Fun Rentals at Irvine Park. Surrey Rental (excludes double) And 1 Wheel Fun Rentals at Irvine Park Boat rental 🙂 Just Comment below or on FB and tell us something your family does for Easter 🙂 Contest ENDS March 7th and the goods will be shipped to your house 🙂 Good Luck!!!!!!!!!!!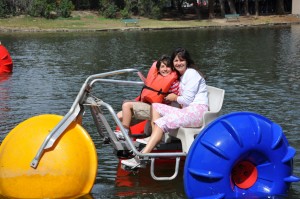 Irvine Park RailRoad Opens at 10am daily — Train Tickets are $5.00 a person Children under 12 months are FREE 
The Park Entrance Fee is $3.00 per vehicle on weekdays and $5.00 per vehicle on weekends.
Irvine Park RailRoad is Located at 1 Irvine Park Road,Orange, Ca 92869







by