by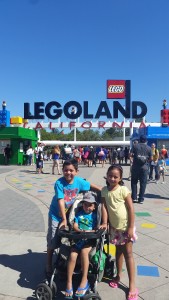 A week ago we decided to have our Family Adventure over at Legoland in Carlsbad Ca. We Love surprising our kids and really never tell them where we are going 😉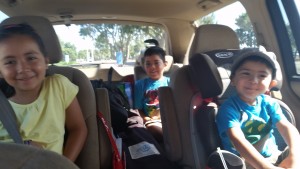 We Love seeing and hearing them trying to figure it out. I think at this point they are learning the freeways and exits. We gotta be sneaky and use another destination that is close by so the GPS doesn't give it away. Once they realized we were at Legoland they were so excited!! The First ride we rode was the Coast Cruise. This was a great way to start our day because we saw what was instore for the rest of the day. It was amazing and we all appreciate all the work that went into the sites. So much detail and having the kids point and tell us what they recognize is great:) 
Its great to see so much color and so many Legos!!!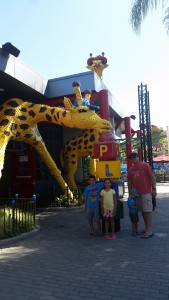 It was a pretty warm day and our next ride really hit the spot The Aqua Zone Wave Racers 
what a FUN Ride!!!!!!!!!! all 5 of us had a blast and we definitely got nice and cool. 🙂
While my husband got on another ride with our bigger kids.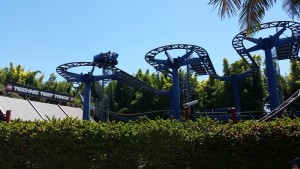 There was plenty to do with our three year old close by. He got on an airplane ride played in the ball area and even went fishing and caught two fish 😉
Once they were done we made our way to My favorite part of the park Castle Hill a must for me is having the kids ride the Royal Joust. I think its the most adorable ride out there 🙂
Happy kids in line for The Dragon Roller Coaster (Josh didn't realize he was going on his first Roller Coaster)
We ran into this Piece of valuable information Kids Eat Free!!!!!!!!!! This was music to my ears!!!!!!!! Thank You LegoLand!!!!!!!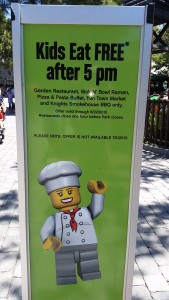 If you haven't tried the famous Granny's Apple Fries you gotta do it!!! as you can see they are excited 🙂
Now its time to get someone wet!!!!!!!!!!! well thats what I thought until……. Other people got us soaked! Over at Pirate Shores on the Splash battle 
Gotta Love live performances over in Heart lake City 
and the Heart lake City girls made our daughter feel special 🙂 she was so happy they talked to her.
The day kept getting warmer and at this point it was hot so decided to go over to the Water park. We had our change of clothes in the car with parking being so close it wasn't a issue. But they do have lockers you could rent. 
Our first stop at The Water Park was The Build a Raft River.
After The Build a Raft River we went over to the Chima section of the Water park, Here they are giving it two thumbs up. I also give it two thumbs up I gotta say it was my favorite. The waves felt calm and I felt relaxed. It was busy and it was noisy but it didn't matter the calm waves our kids having fun it was the best 🙂 I didn't take to many pictures here at the Water Park because there was a lot of people and didn't want to make anyone feel uncomfortable.
All around the park you find beautiful flowers Even if the water isn't for you its nice to grab a chair and relax. The music was great nothing like some Bob Marley to complete the mood. I felt happy everything was just right.
Pirate Reef is something we will be going to next time but Wow!!! thats a lot of water splashing into the ride!
The Kids were thrilled to get on water slides.
This was our first time at a Water Park and it was such a Fun and Memorable experience. We wish we lived closer so we can go every other day 😉 after our Water Park fun we went over to Fun Town the kids were so excited to ride The Driving school. They couldn't believe the cars didn't have tracks!! The Driving school is Divided so the Little toddlers are separate from the bigger kids. Our Little three year old was in heaven driving the car.
Sadly we were running out of time 🙁 But ended our day on a Roller Coaster over on Explorer Island the Coastersaures it was so much fun we got on twice!!!!!!! Even though the line was a little long the Beautiful dinosaurs kept the kids busy 🙂
We had a Fun filled day with lots of Memories Made 🙂 we had a couple firsts — Our first time at a Water Park and our little guy getting on a roller coaster for the first time.
Remember to check for coupons before going to the Park. McDonalds has a Buy an Adult Park Hopper ticket get a Child Admission FREE. Sometimes School PTA's or Libraries give them out. Our Summer Reading program at our local library gave them as a prize. Another way to save is by participating in the Kids Eat Free for dinner 🙂 If It gets late and its a Saturday check the local Dennys because Kids Eat Free on Saturday Nights. Have Fun don't forget your Sunscreen and Make those Memories 🙂
LegoLand is over at 1 LegoLand Drive Carlsbad Ca 92008 Phone-760-918-5346  LegoLand Hotel 877-Legoland (877-534-6526)
and did you know you can text Legoland if you have any questions I had a question about bringing in snacks and they replied. What a great tool! 
the number is 760-203-3604 
http://california.LEGOLAND.com 







by