by

We spent this past Saturday at the fair 🙂 we had such a great time and I'm really happy that despite it being a very hot day we still went. We started the day with one of these –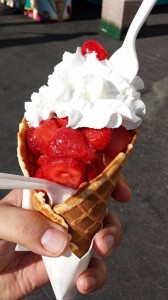 Fresh Waffle Cone,Vanilla frozen yogurt, and whipped creme so good!!
We then set our sights on the bacon!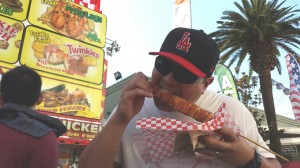 Bacon wrapped Zucchini that is. UNBELIEVABLE!
The farms hold fun for everyone. The kids, however,  seem to have the most. We spent quite a bit of time getting chased around by these guys..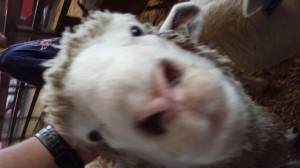 My boy Matt thought they were calling out to him.
….Maaaaaaaaaaaatt…. pricless!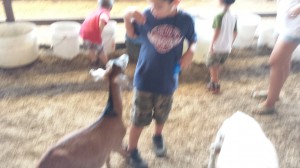 This particular section was appealing to us because it was free. A great way to interact with sheep and goats. If you wish, you can purchase a cup of feed and have the goats come eat right out of your hand.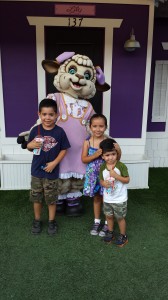 The evening finally started to "cool" off to a mere 95 degrees, which only means one thing…..More Bacon!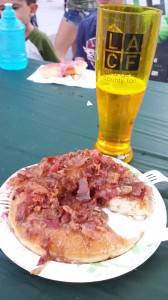 Behold! The bacon covered maple doughnut. A magical creation of sweet and salty perfection! ….and a bubbly refreshment for dad.
Of course we had to include the kids
….and this, bacon creation, is not to be shared.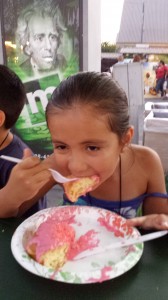 Enter the Pop-Rock doughnut. (I think she likes it…what do you think?) A surprisingly fun and delicious treat. All three guys devoured it in a blink of an eye.
We then spent time in the exhibition halls exploring science and sea life. An interesting shark display had the kids entertained for a while.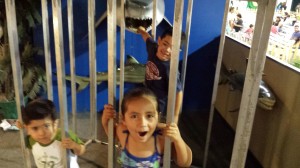 Couldn't resist the shark cage photo op.
The night was capped off by the King of all Fair food.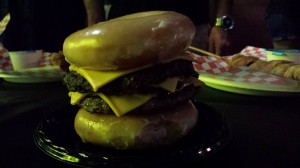 The Krispy-Kreme Triple Cheese Burger. This may seem Un-appealing to some but believe us when we say…..it's good! The three meats and cheese are a perfect balance to the sweet of the doughnuts. Not an easy burger to eat, but Everest isn't a walk in the park either.
There is so much for a family to do at the Fair. Although the rides are fun, we are on a budget and prefer to eat our way through the day. There are several shows you can catch that are completely free. We caught the high dive pirate show at night as the last thing we did. It was very entertaining and actually had us, a bit, on the edge of our seats.
Thanks for reading
Please share our page.







by